Emirates' inaugural Boeing 777-300ER flight from Dubai touched down in Zagreb to a water cannon salute and traditional Croatian folk dancers, with more than 350 passengers on board.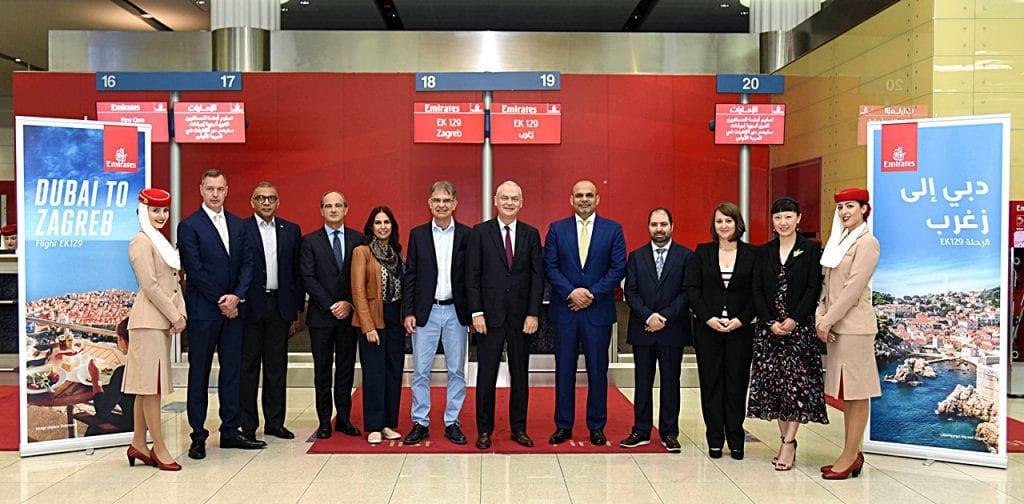 Travelling on flight EK129 was Thierry Antinori, Emirates' Executive Vice President and Chief Commercial Officer; Thierry Aucoc, Emirates' Senior Vice President, Commercial Operations (Europe & Russian Fed); Gari Cappelli, Minister of Tourism, Republic of Croatia; His Excellency Ali Al Ahmed, UAE Ambassador to Croatia and a contingent of partners and business leaders from Dubai, Hong Kong, India and China.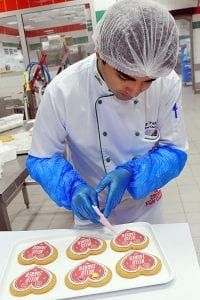 Demonstrating the high level of interest in the new route and ease of connection inbound to Zagreb, today's flight carried commercial passengers from more than 16 countries in Emirates' network, including Taiwan, Australia, India, the United Arab Emirates, Korea, China, Japan, Singapore and South Africa.
In the flight deck of the B777-300ER operating the inaugural flight, were Captain Rashid Al Ismali from the United Arab Emirates and Croatian-born First Officer Marin Zdrilic.
Emirates employs more than 250 Croatian nationals – as pilots, cabin crew and in its ticket office in the Westin Hotel in Zagreb.
On landing at Franjo Tudman International Airport, the delegation was received by Jacques Feron, CEO of MZLZ d.d. (Franjo Tudman Airport) and senior airport and local officials.
A welcome reception was held in the airport's brand new terminal, followed by a press conference, gift exchange ceremony and cake cutting. After the formalities, government ministers, VIPs, airport executives, trade partners and media enjoyed a guided static tour of Emirates' B777-300 ER aircraft.
The tour gave guests a chance to see first-hand the innovative amenities Emirates provides in all three cabins for passengers on board, including its trademark First Class suites, which is currently the only First Class offering on an international flight to and from Zagreb.
– Today is an important milestone for Emirates as we launch full operations into the market and reinforce our commitment to growing trade and tourism flows between Dubai and Croatia. Since establishing our commercial presence in the market in 2003, we have worked with our trade and tourism partners to make this day happen. We thank those partners and especially the Ministry of Tourism and Franjo TuÄ'man Airport for their support in preparing for introduction of our daily flight and the event today, said Thierry Antinori, Emirates' Executive Vice President and Chief Commercial Officer.
– We look forward to continuing the successful partnerships we have formed over the coming months and years, he continued.
– I am very pleased to have the opportunity to welcome Emirates in Zagreb on behalf of the Government and the Ministry of Tourism of the Republic of Croatia. We believe that this direct daily flight between Dubai and Zagreb will bring many benefits to our country. Namely, it will enable significant increase of trade relations between countries and will have the especially positive impact on tourism. With Emirates daily flights, Croatia will not only become the centre of Southeast Europe in connection with the Middle East – the most propitious part of the world in terms of industrial growth, but will also be connected with many other countries like China, India, Australia, New Zealand, South Korea, Japan, Taiwan, stated Minister of Tourism of the Republic of Croatia Gari Cappelli, adding that this year-round line will contribute to extending the tourist season.
The new daily flight will open up access to more than 80 worldwide destinations in Emirates' global network for Croatian travellers and vice versa. Travel from Shanghai, Beijing, Bangkok and Kuala Lumpur, or Sydney and Melbourne can all be achieved with one stop at Emirates' world-class Dubai hub.
– We are extremely proud of the fact that one of the biggest airlines in the world, Emirates, chose Zagreb as their new destination in this part of Europe and this is even more important if taken in consideration that it comes just after the opening of the new passenger terminal that offers the superior level of service for all passengers and complements the top service provided by Emirates, stated Jacques Feron, CEO of MZLZ d.d., Concessionaire of Franjo Tudman Airport.
The service is operated by an Emirates Boeing 777-300ER with a three-class cabin configuration, offering eight private suites in First Class, featuring automated sliding doors for privacy, personal mini-bar and fully inclined seats, 42 lie flat seats in Business Class and 310 spacious seats in Economy.
Kommentarer