Norwegian Air, the leading foreign airline to serve New York City, highlights its LGBTQ activities in support of WorldPride, a month long of events to celebrate the LGBTQ community. The airline will join the annual NYC Pride March on June 30th in partnership with the Harvey Milk Foundation, founded by Stuart Milk to promote equality for all. Norwegian is committed to diversity and has honored LGBTQ icons on its tail fin including Harvey Milk, Freddie Mercury, Oscar Wilde and many others.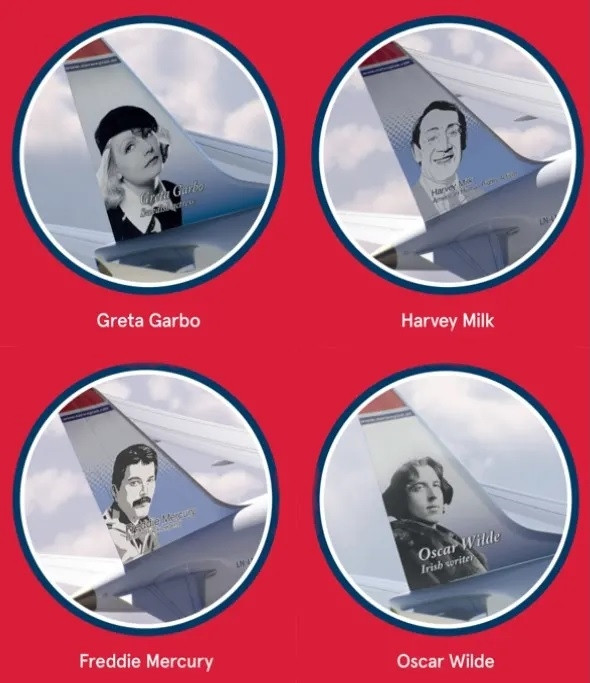 To welcome the millions visiting New York City for WorldPride, select Norwegian LGBTQ crew members have shared their top tips of what to do during Pride and beyond on social media. The quick video is available on YouTube and Norwegian's social media channels including Instagram, Facebook, and Twitter on the 50th anniversary of Stonewall.
– When we are more open and embrace our differences, the world only becomes closer. Equality is innately part of Norway's culture, where all people from diverse backgrounds are respected and included. And this philosophy translates to Norwegian's global brand. We're passionate about bringing people together through travel and making it affordable for all. We are honored to celebrate with the LGBTQ community during Pride month, and every day. Finally, to inspire LGBTQ and all other visitors to New York during WorldPride and any time, a few of our JFK-based crew have local tips to explore, said Anders Lindstrom, Director of Communications, Norwegian North America.
For years, Norwegian has emblazoned prominent LGBTQ icons beloved by the community on the tail fins of its fleet. Below are just a few recent tail fin heroes who paved the way for equality, expression and education:
Harvey Milk — Milk was one of the world's first openly gay politicians and civil rights leader that fought boldly for equality for LGBTQ individuals and other minorities in the United States. Tail fin debuted March 2019.
Oscar Wilde — Wilde was an Irish poet and literary genius, world famous for "The Importance for Being Earnest" and "Picture of Dorian Gray." He set a path for future artists to express themselves 'earnestly'. Tail fin debuted October 2018.
Freddie Mercury — Mercury was world-famous as the outrageously talented lead singer of the legendary British rock band, Queen. His flamboyant stage presence and mega-hit songs were recently immortalized in the movie "Bohemian Rhapsody." Tail fin debuted July 2017.
Greta Garbo — Garbo was a Swedish-American Hollywood icon, best known for her Oscar-nominated roles in Anna Christie and Romance. Tail fin debuted in January 2016 (first-ever tail fin hero on a 787 Dreamliner)
– Norwegian Air's continued support of the Harvey Milk Foundation's global programing is represented more than Harvey Milk as a tail fin hero on their aircraft — he is a symbol of courage and inclusion for which the airline strives. We are proud to be marching alongside Norwegian crew and staff at NYC's WorldPride March in honor of a milestone year for the LGBTQ community. Although we have come a long way since Stonewall, we continue what Harvey Milk started four decades ago, pushing equality and acceptance evermore forward, said Stuart Milk, nephew and co-founder, Harvey Milk Foundation.
Earlier this year Norwegian became the leading and largest foreign airline to serve the New York Cityregion according to data from the Port Authority of New York and New Jersey.
Read more: Norwegian Leaps Forward as Largest Non-North American Airline to Serve New York City in 2018 (february 2019) – Norwegian Now Largest International Airline Serving New York City (october 2018)
Read more news about Norwegian Air HERE and about the airline`s Tail Fin Heroes HERE
Kommentarer